Cyto-Matrix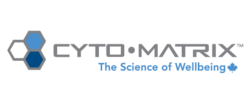 The excellent clinical results that are achieved with Cyto-Matrix by their ethical approach, has earned Cyto-Matrix the trust of many of the most scrutinizing Canadian healthcare practitioners. New clients of Cyto-Matrix quickly become loyal clients and are open to building a lasting relationship with us. 
Products are developed using the highest grade possible raw materials with vegetable capsules while minimizing the use of excipients. All products are manufactured in state-of-the-art, Good Manufacturing Practices (GMP)-compliant Canadian facilities, meeting or exceeding pharmaceutical and Health Canada standards. Third-Party tested with rigorous QA/QC.
We carry a large variety of Cyto-Matrix products in store from Vitamin D, to collagen and much more! Check out the full line of Cyto-Matrix products here.