About Us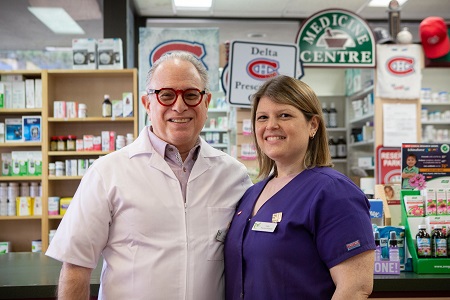 Delta Prescription Clinic has been serving the Delta and Surrey communities since 1985. With a team of five pharmacists, one Registered Technician and seven Pharmacy Assistants, we have staff that specialize in many different areas (including but not limited to):
Blister Packing
Braces
Compounding (both human and veterinary prescriptions)
Compression Stockings
Diabetes
Herbal and Homeopathic Medications
Hormone Replacement Therapy, etc.
Delta Prescription Clinic is a full service clinical practice that not only fills prescriptions but also:
is an experienced compounding pharmacy
a natural product & alternative medicine expert
participates in all government funded patient directed program
has certified injection technicians
specializes in Bio-identical Hormone Replacement
specializes in Palliative Care Services
Mission Statement
Our mission is to provide the finest possible personalized pharmaceutical and health care services. Our team is always willing to go the extra mile for our patients; treating them just as we would our own family.
At Delta Prescription Clinic, there is always someone available to ensure that you understand your medications, the reasons for them, and what options are available to you or your loved ones for optimal therapy and compliance.
We're meeting the changing role of today's pharmacies. Visit our pharmacy or call us today!